When I arrived in Cuba late at night, my friends were already waiting for me at the airport. They had enough time to organize a taxi to get to our hostel in Havana. We already booked two nights in advance in this hostel to buy ourselves some time to get to know how things work in Cuba. 
As we arrived at the hostel I was surprised because it was a typical blue house just how I imagined a Cuban house to look like. Also, it was pretty close to the ocean (I'm not saying beach here because it was a 40 minute drive away from the next beach). 
We knocked on the door and they opened it just as much as you need to see that it's guests in front of the door and no potential bad guys. I told them I already made a reservation online so they let us in. 
Keep in mind
If you arrive in Havana during the day it's absolutely no problem to go from door to door looking for a place to stay but if you arrive after sunset it's mostly impossible without booking or arranging something in advance – and you don't wanna stay outside on the streets of Havana at night, believe me.
So we checked out our room which was pretty hot when we got there but as soon as we turned on the AC and the fan it was freezing cold – and there was no in-between those two. As I expected this place to be much worse I was super happy having a shower and a toilet, both working and (almost all the time) running water. 
The next morning we started walking around exploring the area after our host made us a super yummy typical Cuban breakfast. The first few days I was surprised how various the breakfasts were – for only 3$! But after talking to the Cubans for a while I realized how things really work on the island. 
But enough of that for now, after exploring the area for a bit we figured out how to get to the ocean. On the way I realized how bad it stinks in the streets because of the heat and all the garbage. All the rats and cockroaches reminded me of the Middle Age here in Germany, this is how it must've been like. So we passed the only hospital in Havana which was huge compared to all the other buildings around. Later, I learned that a lot of international medical students come here for an exchange year. And also the sad part: As a Cuban you can't just leave the country like anyone else. You either need a special invitation form of someone in another country or you can study medicine and study abroad for one year. Medical workers are Cuba's most important export commodity and that's why so many Cubans study medicine. Otherwise, they most likely never leave the island in their whole life.
Once we got to the ocean we were fascinated by the view so we just stayed there taking a few pictures. After a while a Cuban came over and after a little chat he offered us a free trip around old town Havana (Havana vieja) where he showed us some pretty cool spots. But first, he told us where and how to get wifi. Of course the communist government owns the only telecommunication company on the island which is monopolized. So for making phone calls or for using internet or wifi you need to buy a card (tarjeta). The price depends on the location. The one we bought in Havana was almost 3$/hour of wifi but on the countryside we found tarjetas for only 1$/hour. At first my friends were really mad about the fact of not being able to use the internet at all times but then they learned to see it my way: It's a great way to relax and forget about the rest of the world while you're travelling and to be honest – I didn't miss the internet or social media at all!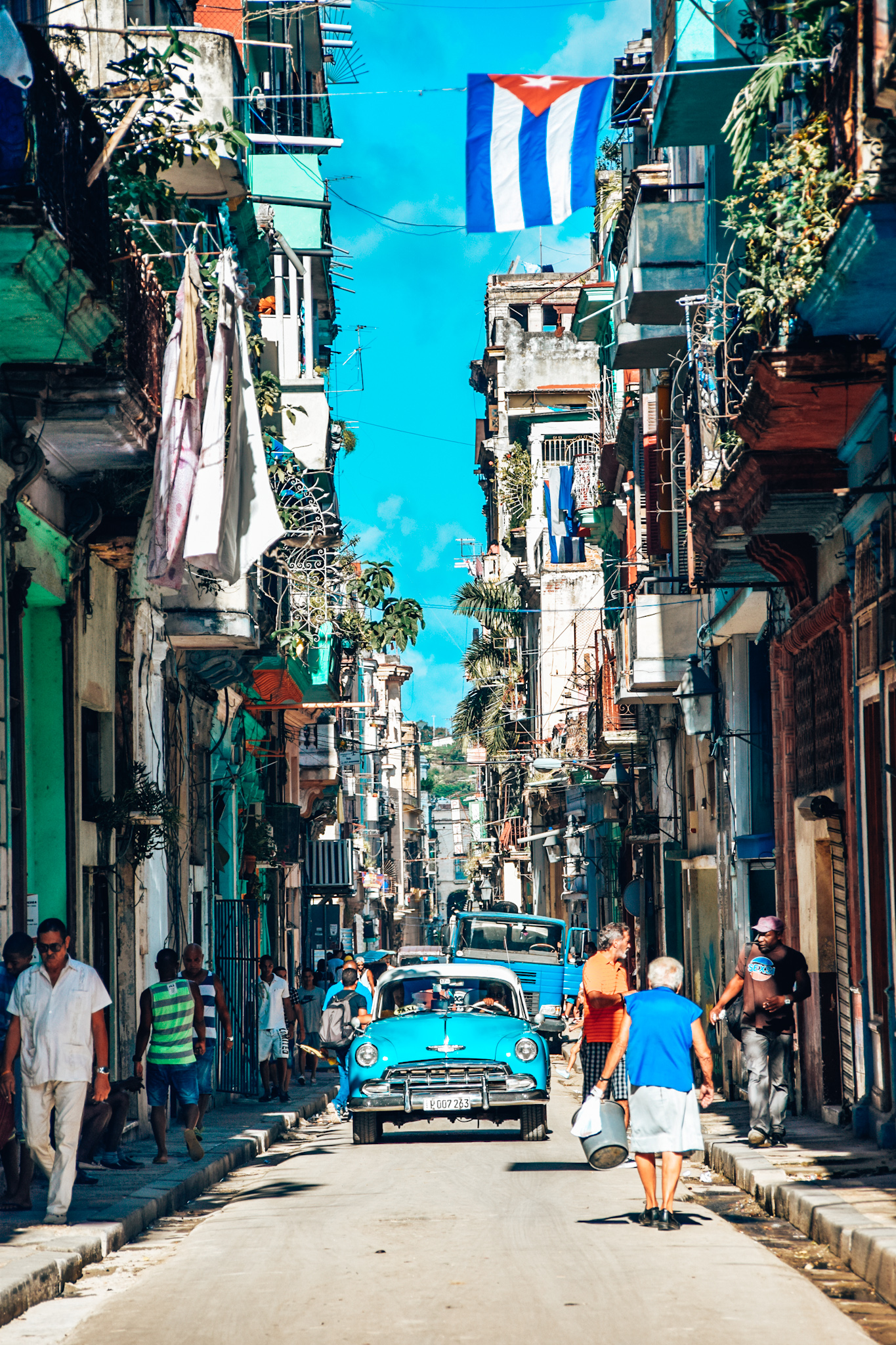 Havana Vieja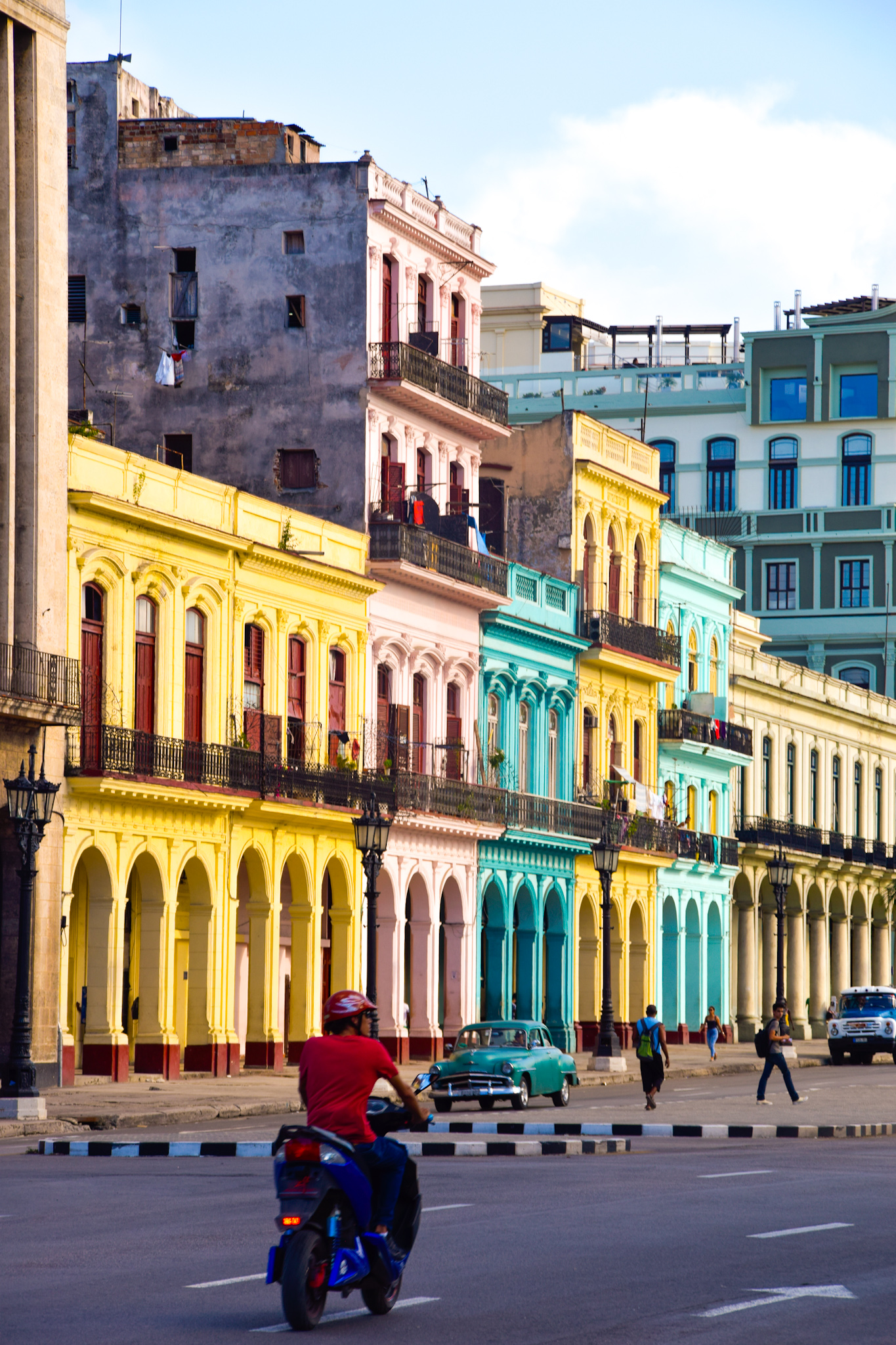 Havana Vieja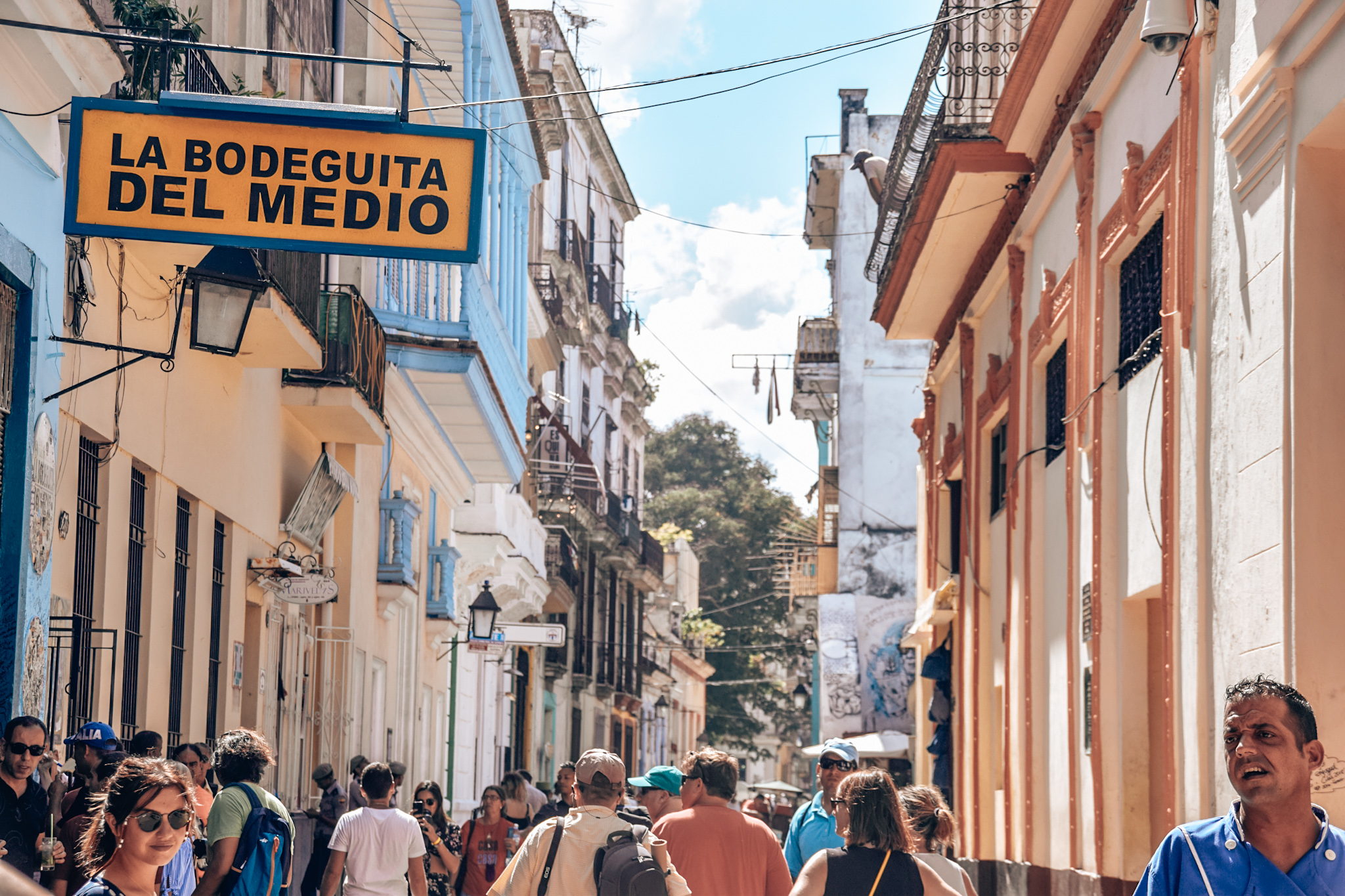 Bodeguita del Medio, Havana Vieja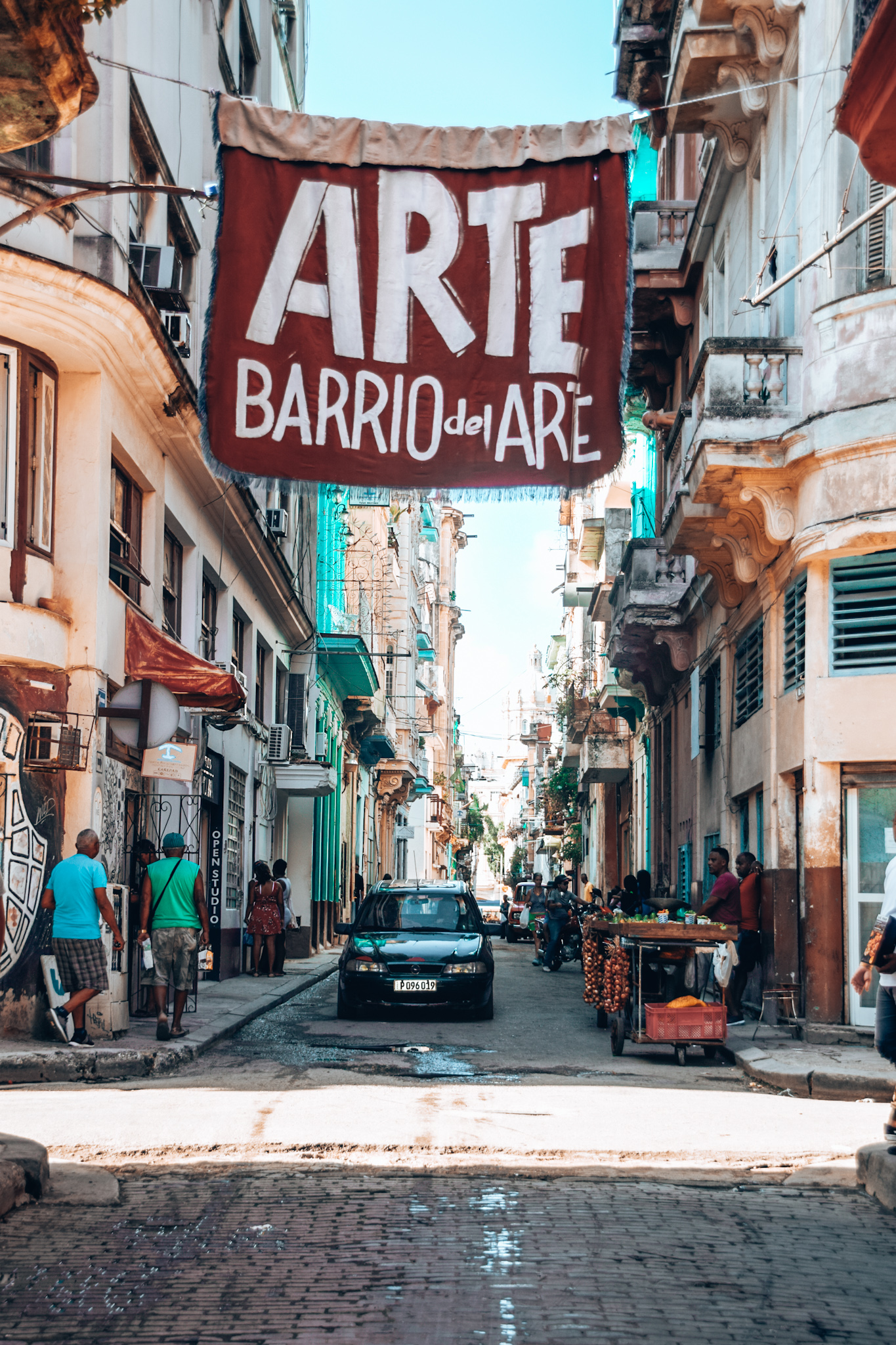 Barrio del Arte, Havana Vieja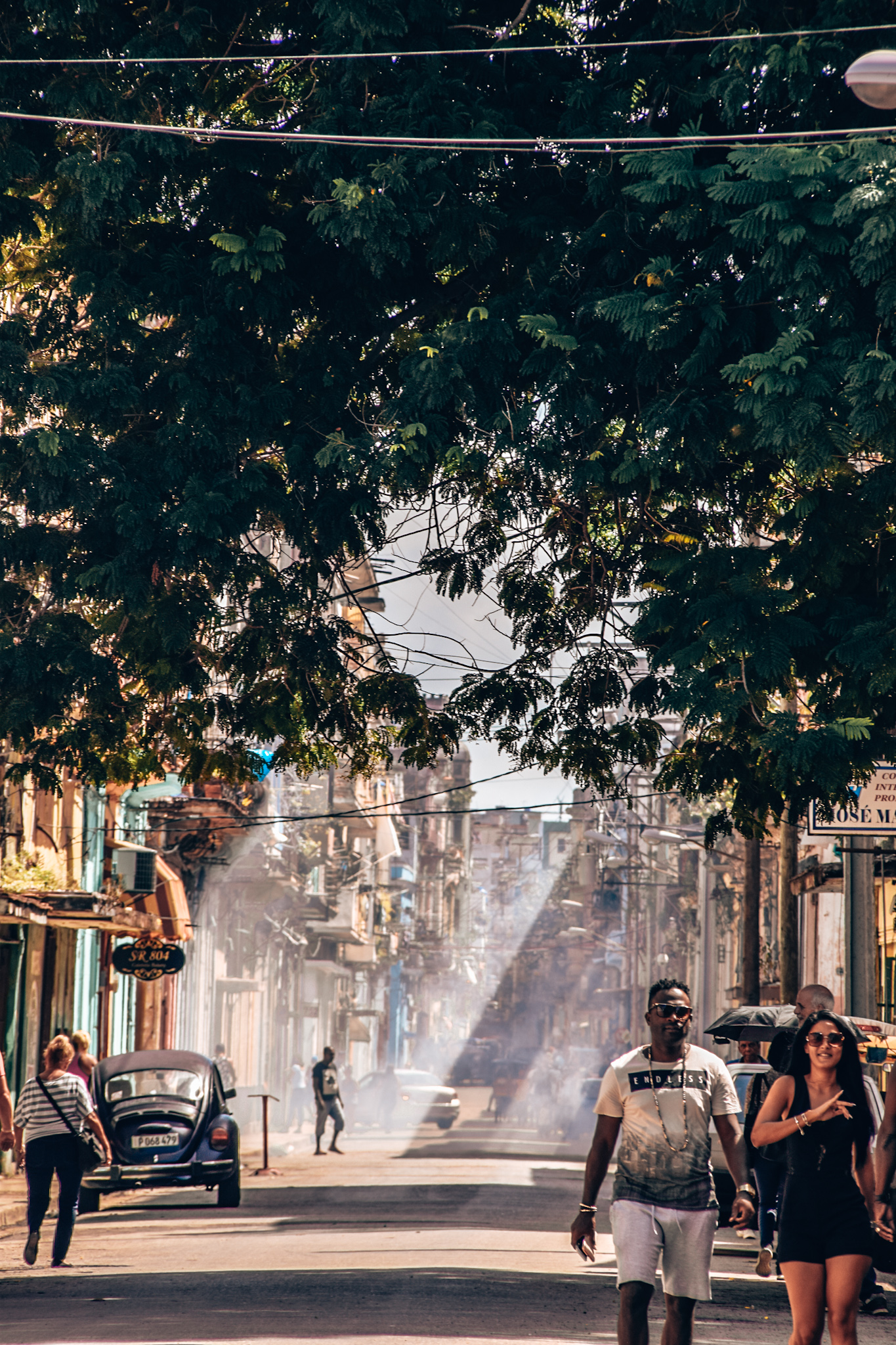 Havana Vieja
We drank our first real mojito in the bar where we bought the tarjetas. After we cooled down we continued walking towards the Castillo, a pretty lighthouse and passed a statue of Cristo that reminded me of the giant one in Rio de Janeiro. Then we followed a street full of oldtimer cars towards Havana vieja. Our tour guide led us towards an expensive looking hotel and we took a very old elevator to the top of the building – where not only a nice rooftop bar was waiting for us but also the next mojito. At this point I have to mention how cheap alcohol is in Cuba. One drink (no matter what) costs between 1$ and 3$ and they definitely know how to make tasty cocktails. 
For mojitos they use local rum (Cubans don't use the famous Havana rum because it's the brand of the state), a special herb called hierba buena which means "good herb" (it's like ment), and the local grown sugar which tastes so different than the one that I know from Germany. Later, our guide showed us an old church and took us to the bodeguita del medio which is a famous bar where you can write your name on everything, tables, chairs, walls, the bar – which we did of course. On our way to the capitol we stopped at one of the bars, where Ernest Hemingway used to go, "La Floridita". They have a statue of him inside, sitting at the bar. For me it was the second time visiting one of Hemingway's writing spots (the other one was pretty close to Havana: The Sloppy Joe's Bar in Key West, Florida, USA). The capitol was being renovated so we sadly couldn't take good pictures of it. It was already dinner time at that point so our guide took us to a restaurant hidden in some houses backyard. Tourists usually don't know about this place so we were the only ones eating there. It's owned by a famous Cuban who's married to the first Cuban ballerina (Alicia Alonso). The place was covered with newspaper articles, pictures and trophies.
At the end of the day our nice guide wouldn't leave without some payment for the "free" tour. From now on we knew that we had to be more careful on who we trust.
Time to get out of the capital and towards the countryside. We tried hitchhiking to get to Viñales, asked for the way several times and several people (yes, an old-fashioned map would have been helpful) and finally got to a bus stop where we thought someone might give us a ride. After a while we gave up and ended up being squeezed in a small bus with at least 20 others. At least, we paid less than the other tourists taking a tourist bus. So the adventure started. Neither houses nor buses have glass panes in their windows and of course it had to rain on our way so we got a little bit wet. The scenery we passed on the way reminded me of Hawaii and looked really beautiful.
We arrived in Viñales pretty late because we wasted so much time in Havana. The town is small so we just wandered around a bit before going to sleep in our casa paricular. Luckily we met a nice man on the bus who helped us finding a place to stay but if you don't have that figured out before your arrival, there's plenty of options in Viñales and the people seem super chilled and nice here.
We woke up early to visit the national park of the Viñales Valley which is a UNESCO world heritage. But first, we enjoyed our breakfast while watching the sun rise from the top of our house. Up there you get a stunning view on the jungle and the mountains. Our host prepared a variety of fresh fruits and pineapple juice for us. We left the house at 8:30am by horse and our first stop after a short ride was a tiny tobacco plantation where we got to roll and smoke our own cigare. The farmers explained the whole process of making a cigare and that 80% of their income goes to the state. Sounds familiar, right? We continued riding through a beautiful landscape of fields, jungle and through a small river for about three hours. The experience was great and the feeling is hard to describe. In the end we arrived – completely dirty and wet – at a bar in the middle of nowhere next to a small lake. The locals prepared some really good mojitos and showed us around the coffee plantation.
Fun Fact
The Cuban farmers build fruit plants next to their coffee so they can take full advantage of the ground. They make honey out of the coffee plants and mix it with their own rum and honey.
The rum they produce here tastes so much better (in my opinion) than the famous Havana rum that the country exports. Sadly, due to the communism they are not even allowed to brand it or sell it. It's completely handmade: There's three men who pour it in bottles, put the lid on top and label it afterwards. 
At night we went to a fiesta (party) at the casa de musica in the center of Viñales. Every small town in Cuba has such a casa de musica and this is often the only place where parties happen which is a nice thing because the whole town comes together to celebrate. I absolutely improved my salsa skills that night.
In the morning we woke up super early to drive to Cayo Jutías which they told us would be the most beautiful beach we've ever seen – and they were right! According to Google Maps it takes 20 minutes to get there by car but we ended up driving two hours because the roads were so bad and we had to drive around big holes all the time. We spent the whole day there and we only needed to share the beach with a few Cubans, no tourists. We had fresh fish, coconuts, avocados and cocktails – what a life!
I realized only a few days later that I completely got sunburned like never before in my life. The skin on my whole body formed bubbles and blisters so I had to cover my skin from the sun for a few days. It was literally burning and definitely not a nice feeling so don't underestimate the Caribbean sun and put on enough sunscreen.
We took a bus to Trinidad which is more down south and this time we actually took a normal bus with comfortable seats but with a not working AC. Our six hour trip led us through more of those really bad roads they apparently have everywhere in Cuba. That might also be the reason why people drive so slowly here. Next to the roads you find a lot of patriotistic paintings or signs – let me know if that's normal for communist countries?
There's not a lot of service areas on the "highway" so we stopped in Cienfuegos. If we had more time we would've stayed there for a few days as well.
I first planned on travelling the whole island in two weeks and then realised that it was not enough time. That's why we only got to see the "upper" half. If you want to see everything, plan with at least three to four weeks. In Cuba it rains every day between 3pm and 5pm. It's best to include that information as well when planning your day (trips).
Cubans usually feel insulted if you tip them or give them money but in Trinidad we saw what real poverty means. People were begging me for a shirt or a pencil on the street and we were not even able to buy a bread. Yes right, you need to sign up in a list one week in advance if you want to buy a bread. Now you probably can imagine how bad the situation is in this part of the country. As a tourist I felt completely uncomfortable walking through the streets of Trinidad, not because I was scared but because I felt bad for the people. I felt like I shouldn't be there.
Cuba is a safe place for backpackers, I never felt insecure or alone. People always want to help you and would never steal from you. They would go to jail right away (or worse).
Trinidad doesn't have a lot of casas particulares with the blue anchor or a lot of shops. We had to walk around for a really long time asking several people to find a bank, for example. If you visit this place be prepared. The streets in this town are even worse than cobblestones so you need to be very careful while walking. It's raining a lot in this part of the island so the rocks are also very slippery most of the time.
As mentioned before there aren't a lot of possibilities to eat, only a few restaurants and no supermarket. One day, a Cuban we met on the street offered to cook for us and we agreed so he prepared lobsters, rice, beans and platanos for us – it was so delicious! He only asked for about 16$/person which is absolutely okay. We got to know his family and his story and had a really great time together.
We woke up early again to hike towards a waterfall deep in the jungle. So we did some hitchhiking and the first five kilometers two different horse-drawn carriages offered us a ride. After that, we weren't so lucky anymore and had to walk for about four hours to get deeper in the rainforest and more up the hill but it was worth it once we made it. From the top of the mountain we got an amazing view over the whole rainforest, Trinidad and the ocean behind it. In the end, a nice Italian couple gave us a ride in their rental car for about ten minutes and then there were no more roads so we had to continue walking. 
From that point it took another hour until we reached the waterfall but it was a beautiful and adventurous hike through the jungle. We passed banana trees, had to cross rivers on tree trunks and ate green oranges. They tasted like a mix of sweet oranges and sour lemons but after such a hike this was the greatest thing to happen! We reached a little cave and next to it were two guys who asked for a small amount of money to enter the waterfall. After about fifteen more minutes of hiking and climbing we reached the bottom of the waterfall. The water was brown and super dirty so we couldn't see if there were rocks (or animals) inside. Anyways, it was a lot of fun to hang out there and discover the area. 
On our way back home we were lucky because we got offered a ride in the back of someones jeep after 45 minutes of walking. I think we were walking at least six hours in total that day.
Before returning home we booked a classic car taxi for the next day to take us to Cayo Coco. The classic car taxis are cheaper than the normal ones because they don't have AC and are not as comfortable. 
At night we went to the casa de musica and again it felt like everyone living in Trinidad gathered there to dance and have fun. There even was a little stage where concerts and dance shows took place. I liked the vibe of this casa de musica a lot.
By the way,
it's called casa de musica but actually it's never a casa (=house) but mostly a giant square or similar in the center of a town.
Later we went to a club close to the square which we didn't like so much. After a while some locals told us about another club which is located a few minutes outside of town and 20 meters underground in a giant cave so we just had to check this out. The entrance is inconspicuous and unremarkable, inside were only locals. This place is a secret and no tourist would ever be able to find it without a local showing him/her the entrance.
The atmosphere down there was amazing! Everything is built out of rocks, even the toilets – or let's say the bathrooms because there were only holes in the ground. They even had two bars, two dance floors and a DJ pult in there.
Our taxi driver was already waiting for us when we walked into the center in the morning. We didn't know about the other three people who were coming with us so in total we had the driver, two people sitting next to him and four in the back. Can you imagine that this wasn't the initial situation for a four hours ride? Especially for me because my stomach didn't really like the food situation in Trinidad which is why I was having really bad cramps during the whole drive. 
When we got to Cayo Coco, which is located on the other side of the island, I expected it to be more like Cayo Jutías: beautiful nature and no tourists. But sadly, it was the opposite and there was nothing but large hotel complexes. No blue anchors for us. Nowhere. We were kind of frustrated to realize that after such a long ride but since we were already there – there was no way to get back to the main island on the same day – we decided to stay in the cheapest hotel for one night. We explained our situation and got a room with three beds for 78$/night – all inclusive. You need to know that I absolutely hate hotel complexes but this one was amazing. I felt like being in one of those luxury resorts you know from movies like High School Musical. Ten different buildings, four different restaurants with delicious food, a gym, three different pools, a bar, shops and of course the turquoise ocean with a long white sand beach. We just couldn't resist and stayed for another night. We only had to pay 50$ for the second night.
Cayo Coco is so contrary compared to the Cuba we experienced before. People actually have jobs here and earn money, they speak English and it's packed with tourists. I guess this is the only part of Cuba (besides Havana) that most of the tourists experience. Realizing that made me sad again because this country has so much more to offer. We were talking to some of the hotel employees and heard crazy (sad) stories. One of them told us, that he has to drive three hours every day to get to work but that it's the only opportunity for him to earn money and feed his family – which he basically never sees.
Soon, we had to be back in Havana for our flight back home so we had to head back north. We had to choose between Varadero and Santa Clara to be our next stop. We chose Santa Clara because we wanted to see the mausoleum of Che Guevara. He used to live in this town for a while.
It was already dark outside when we arrived because we weren't so lucky with the hitchhiking again. We found a blue anchor pretty fast and had another really nice host. The picture below shows the entrance of the house.
The next morning we woke up to a great breakfast and a rum massage for little money. Full of energy we started our tour through the town towards the mausoleum. Patriotistic wall paintings are typical for Santa Clara but they actually look really nice. It's a cute little town with some nice old buildings. We felt like the tourist restaurants were not really good over there so you should probably read some Tripadvisor recommendations before eating out here. Our host recommended us a typical place where the locals go to eat fish and as a matter of fact we were the only tourists enjoying this yummy fish that day.
Watch out
It was really hot so my skin started forming bubbles again – please learn from my mistake and bring enough sunscreen if you ever fly to Cuba because there's no chance you'll be able to buy it somewhere on the island. At least I found body lotion that day in Santa Clara to cool down my skin a little bit.
That day we headed back to Havana but we already run out of money. That's why we tried to find an even cheaper casa particular than the one we had before. After checking out at least six different casas in Havana vieja we finally decided to stay in one right next to the famous la bodeguita del medio. 
It was a nice place to stay but the breakfast wasn't good. We walked through Havana for a bit and went to a fish restaurant. For the first time we actually had free wifi without buying a tarjeta before. We walked through some street markets, bought some souvenirs and walked along the coast before heading to the airport at night.
About Cubans
They call themselves Creole which means they have a mix of Spanish and African roots, so the population is mixed. Once we asked one of our casa papas about religion and this was the answer we got: "Either you are Catholic or Communist".
Travelling to Cuba feels like going back in time. A mix of the middle age and the 60s/70s. There's still a lot of horse or donkey drawn carriages and of course plenty of classic cars. Then there's this huge poverty in the countryside and almost everywhere on the island they have problems with the sewage system – in some parts it doesn't even exist. That's the part that reminded me of the middle age. In Havana I saw people throwing their garbage on the streets out of their windows which is the reason for the rats in Havana. Most of the time you'll find only a hole in the ground instead of a toilet – if you do find one it's probably not working. And never throw toilet paper inside. By the way, paper is rare in Cuba and sometimes if the paper shortage is really bad they even have to cut back on pages and circulation of newspapers.
Check out my Photo Gallery for more pictures of Cuba and other places I've been to.
The Bali Experience
This won't be the typical "I quit my job and went to Bali and it changed my life"- story but somehow that's exactly what happened. And I didn't plan for it to happen.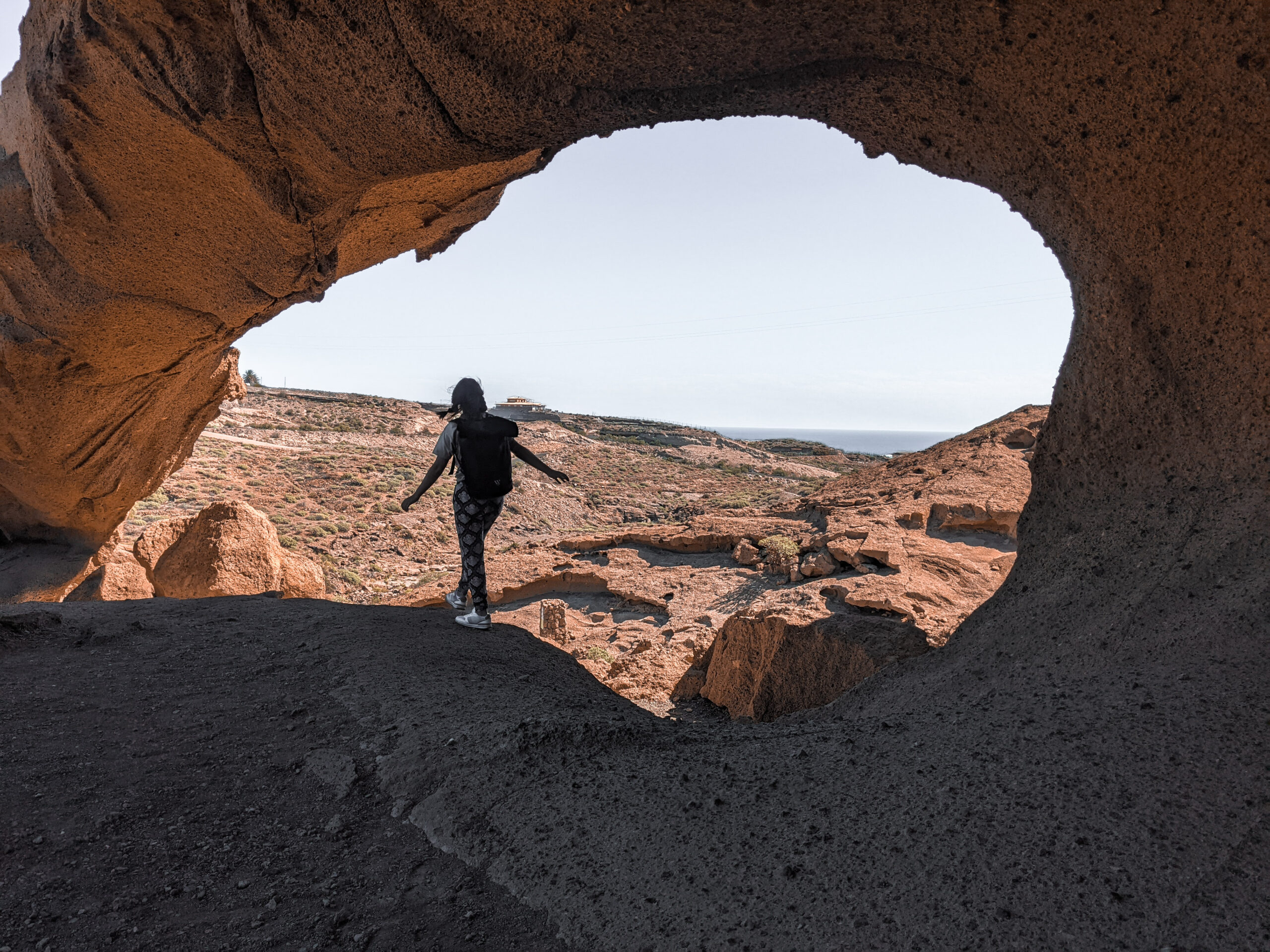 Remote Life Tenerife
A Digital Nomads guide to Puerto de la Cruz – best beaches, bars and restaurants If you're planning to come to Puerto de la Cruz as a Digital Nomad to work you might be wondering: Where do people hang out here? What's the best place to work from? And how's nightlife?