Don't let the pandemic stop you from exploring new places. Working remotely gives us the unique chance of working from the most beautiful places on earth. I chose to join a coworking trip with people from joinmytrip to work from the beautiful island Madeira. Sadly, I only stayed for a week to find out if I like working remotely – I do! I wish I stayed longer but I'm currently looking at other options for coworking in new places but more of that later.
Also, a travel map can be found at the end of this blog post. It shows all the places we've been to and some recommendations for food.
My Coworking Trip to Madeira
Before takeoff the pilot told us about heavy winds and that the Christiano Ronaldo airport in Madeira's capital Funchal is one of the top 5 most dangerous airports in the world due to that. But luckily he managed to land at the first try (which apparently is not always the case).
The picture above shows the great view I had over Ponta de São Lourenço during the flight.
When I stepped out of the plane the first thing I noticed was the ocean smell that I missed so much – and then I even saw a rainbow! The lockdown depression was gone immediately!
We drove about 20 minutes to get to our house in Câmara de Lobos, a giant villa located inside of a banana plantation on a hill. I couldn't imagine a better place! We had 4 bathrooms, 7 bedrooms, a big living room and kitchen, a terrace with ocean view and a pool. Most importantly, we had a lot of tables and chairs so that everyone could build up their own little home office according to their needs. I liked the fact of being flexible and work from my room, the living room or even from the terrace in the sun sometimes. On our first evening we cooked dinner together and got to know each other.
The next morning was a Sunday so we went on an off-road jeep safari with green devil safaris and our funny driver Spencer. Therefore we left the house at 7am to see the sunrise at the Cristo Rei statue at Ponta do Garajau (between Caniço and Funchal).
FunFact from Spencer
This statue has been built in the 1920s – 4 years before the famous one in Rio de Janeiro got built and yet it's not as known.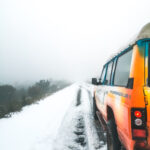 We passed by some of the famous Levadas, irrigation channels or aqueducts specific to the island. They can be found nearly everywhere on Madeira and offer some unique hiking trails with great views and waterfalls. We had one right behind our house so we hiked along the Levada da Fajã a few times after work.
After, we continued the off-road tour until we reached the top of the mountain which was covered in snow. We stopped at the UNESCO World Heritage Site Laurisilva forest in Fanal. The ancient forest consists of 500 years old trees that today can only be found on Madeira, the Azores and the Canary Islands. Typically, the trees are surrounded by fog which gives the forest a fairytale flair and its nickname.
Our next stop was Ribeira de Janela where we had a great view on the coast of Seixal and its waterfall from up high. In Porto Moniz we stopped by the Miradouro to see the tstrong waves of the Atlantic Ocean crash into two lonely black rocks called Ilheuzinho / Ilheus da Rib and Ilheus da Janela. One of my favoite spots on the island!
Then we continued and visited the famous black beach of Seixal – which was completely covered by ocean water due to the heavy storm. But because of the massive snow on the mountains there were so many waterfalls everywhere and especially here in Seixal which looked really beautiful.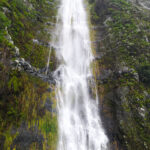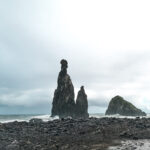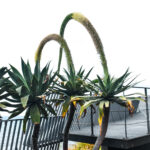 Being on the road all day we decided to stop by the restaurant Poncha de São Vicente where we tried the traditional homemade drink Poncha for the first time. It simply consists of their sugar cane rum mixed with honey, lemon and orange juice.
I have to say that I highly appreciated being able to go to a restaurant. It was my first time since the lockdown in Germany started in the beginning of November (more than 2 months ago!).
After having some really good food at the restaurant as well we continued towards Ribeira Brava – the town of the wild river. We walked and hiked around the beach here for a bit before leaving to our last stop of the day: The glass platform at Cabo Girão! If you're brave enough you can stand 580 meters above the sea looking down on the coastline of the island – a breathtaking view!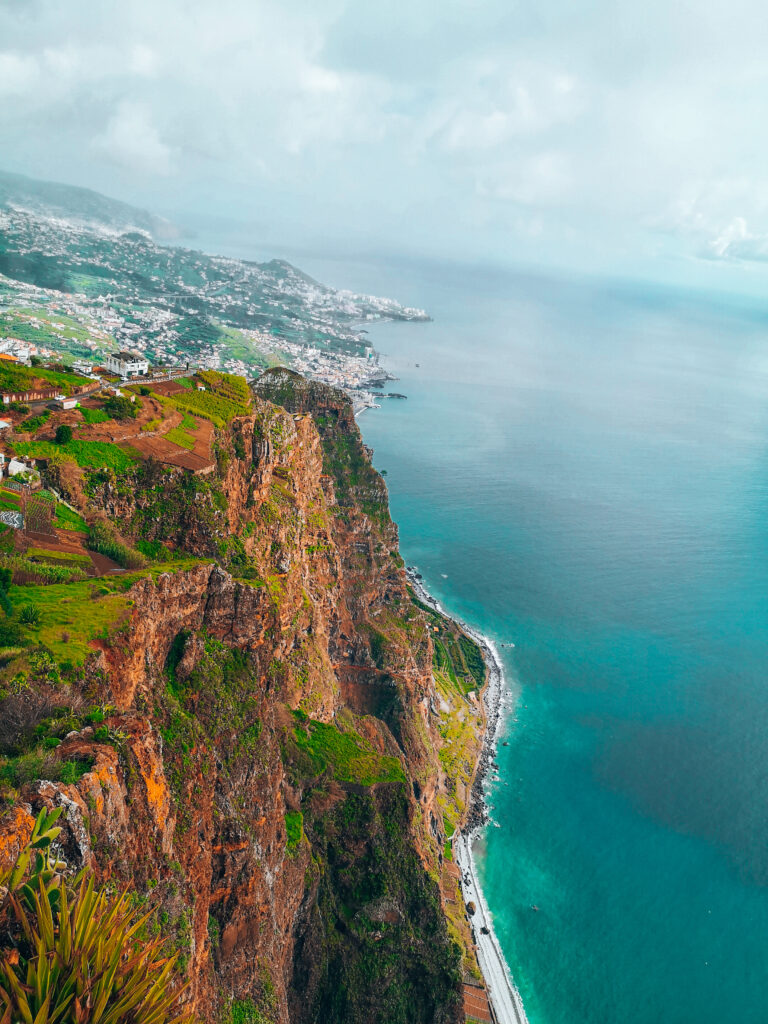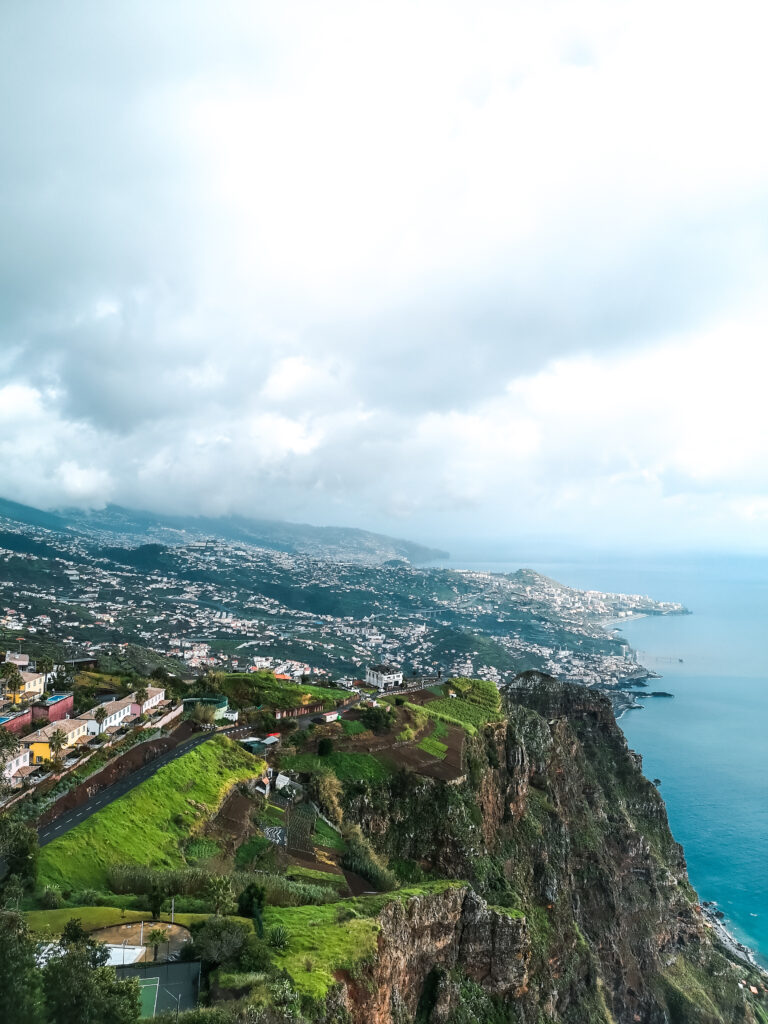 Luckily there's one hour time difference to Germany so I could wake up at 7am and finish work at 4pm to spend the rest of the day hiking. During work I had a view over or tiny valley and the banana plantation of course. Something I didn't know or expect: There are almost no wild animals, birds or insects on the island and therefore it's really quiet. One time I went for a run down the hill towards the coast during lunch break which felt great – but I underestimated the way back up! On most of the days we had lunch together at our house, though. After work we went hiking along or Levada to see some waterfalls or down to the fishermen's village for a stroll. We made dinner and spend the evening in our living room, jumping the pool sometimes. A few days after we arrived, the government of Madeira set up a curfew due to the Covid spread so we were not able to leave our house after 7pm but since it was already dark at that time we were totally fine with that.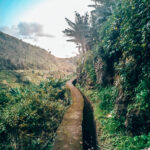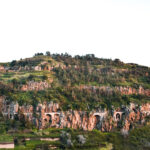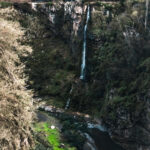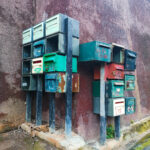 One day we finished work a bit earlier to hike along the Levada at Ponta do Pargo. Spencer had told us about a giant fire that destroyed most of the island 5 years ago and we hadn't seen any of that destruction yet until we walked along this Levada. All the trees, ferns and bushes were burned down and with all the Eucalyptus trees in between it felt like standing somewhere in Australia after a bushfire.
We watched the sun set into the ocean from the Miradouro do Farol da Ponta do Pargo and had the traditional Bolo do Caco and Espetadas for dinner in a restaurant closeby.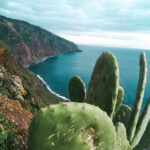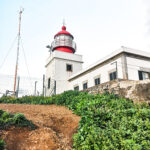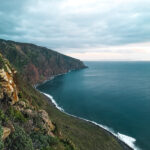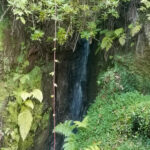 On our last day we woke up super early to go for a 14km hike to the top of Pico do Arieiro, one of the three peaks of the island. Due to the heavy snow our hiking trails were limited and a lot of roads were closed but we managed to find our way to the top in the snow storm. After the long hike we got rewarded with Espetadas at the restaurant Casa De Abrigo Do Poiso.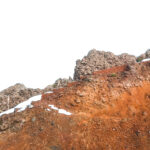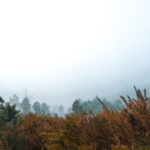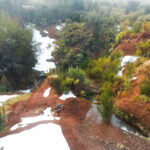 Heading to the airport we quickly stopped in the capital Funchal for one last lunch and to visit the statue of Christiano Ronaldo who was born on Madeira and is like a national hero to them donating a lot of money to poor families each year. We walked through the Rua de Santa Maria which is known for its painted doors (Portas com Arte).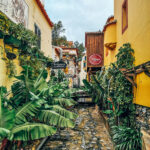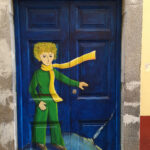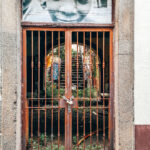 On my way back home I got rewarded with this stunning sunset view on the three highest peaks of Madeira:
Madeira compared to the Azores
Last year I've been to the Azores around the same time and I thought Madeira would be pretty similar to the Azores with its black sand and ice blue ocean water but the nature looks so different here! Madeira is also way more crowded not only by tourists but also by expats and there live more people in general. On the Azores it's more nature than houses and not soo many tourists (yet).
Also, I haven't expected snow on Madeira but Spencer told us that it's normal on the island. I don't believe it's the same for the Azores. They felt more tropical to me and even on top of the mountains it was never as cold as on Madeira.
It's definitely worth visiting both of the islands (groups) because each of them has its unique flora, history and hiking trails.
Conclusion of my Coworking Trip to Madeira
I was more than impressed by this coworking trip and would always do it again! Everything worked out well and despite the fact that I was not able to go surfing due to the weather and timing this trip gave me so much! Not only a retreat for my body and soul but also new friendships with great people! The only thing I would do differently next time: Stay longer.
A few thoughts regarding New Work come into my mind while working from Madeira. This little self-experiment has proven to me that people can be productive while working from sunny vacation spots – if not even more productive than while working from a boring office. This kind of shared coliving and coworking houses has definitely potential it's not being done enough in my opinion. People can have their privacy in their own room but also collaborate whenever they want to and work and learn from the inspiring people they're surrounded with. Before during and after work they benefit from the nature and great views.
That's why I decided to do more and longer coworking trips but more on that soon.
Check out all the places we've been to in the map below:
When planning a coworking trip:
There are two important factors to a successful coworking trip. The location and the people you are with. Believe it or not but they can have a huge impact on your work so choose wisely:
What to think of when choosing a location: Travel restrictions, current situation (e.g. Covid), weather, stable internet connection, enough space and privacy for everyone. Having a sauna, pool or being into the nature is a great bonus factor. I wouldn't recommend staying in a city center for example.
What to think of when choosing the people: First of all, don't chose too many people or the place gets crowded and you all can't concentrate. Keep in mind, that everyone has to get along so choose easy-going ones rather than extreme characters. Also choose people with similar interests: Are you planning to go on adventurous hikes? Will you be cooking at home or going to restaurants every day? Everyone should be aligned on these things to make the best out of it. Keep the age range in mind as well to avoid tensions.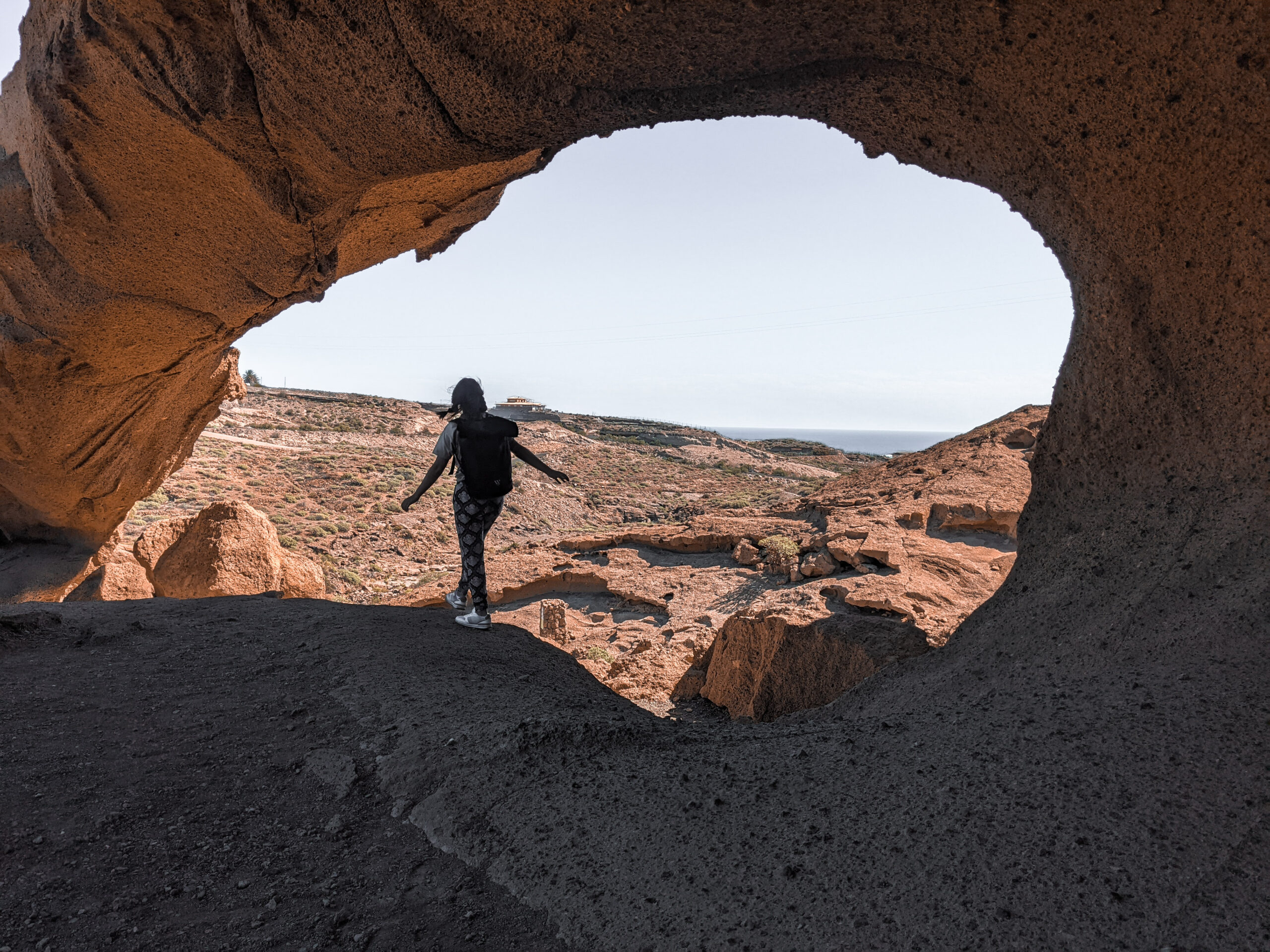 Remote Life Tenerife
A Digital Nomads guide to Puerto de la Cruz – best beaches, bars and restaurants If you're planning to come to Puerto de la Cruz as a Digital Nomad to work you might be wondering: Where do people hang out here? What's the best place to work from? And how's nightlife?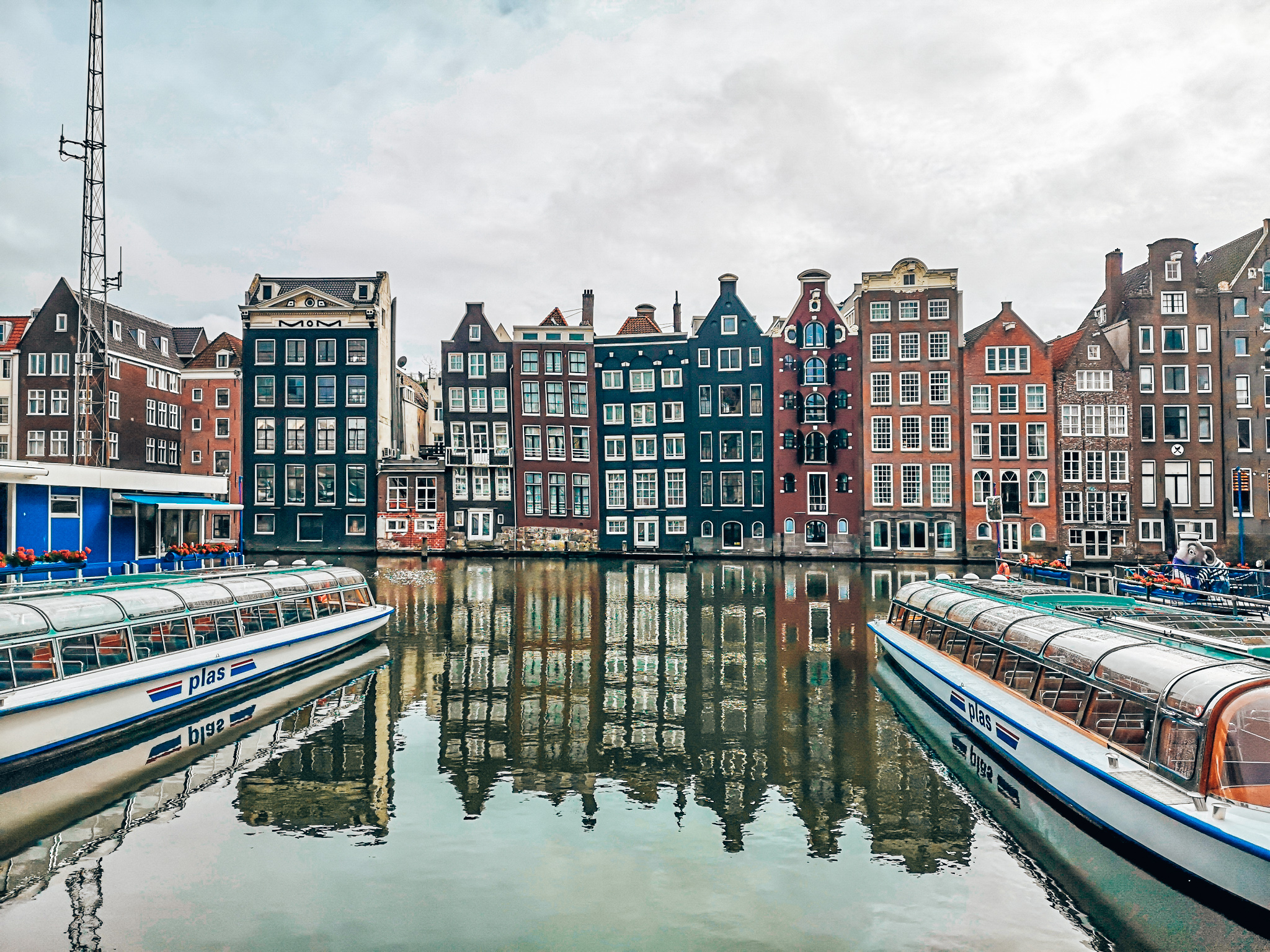 Best Spots in the Netherlands
The Netherlands have so much to offer: endless beaches, rushing cities with amazing modern architecture, countless flower fields, a lot of history, delicious gouda cheese and so much more!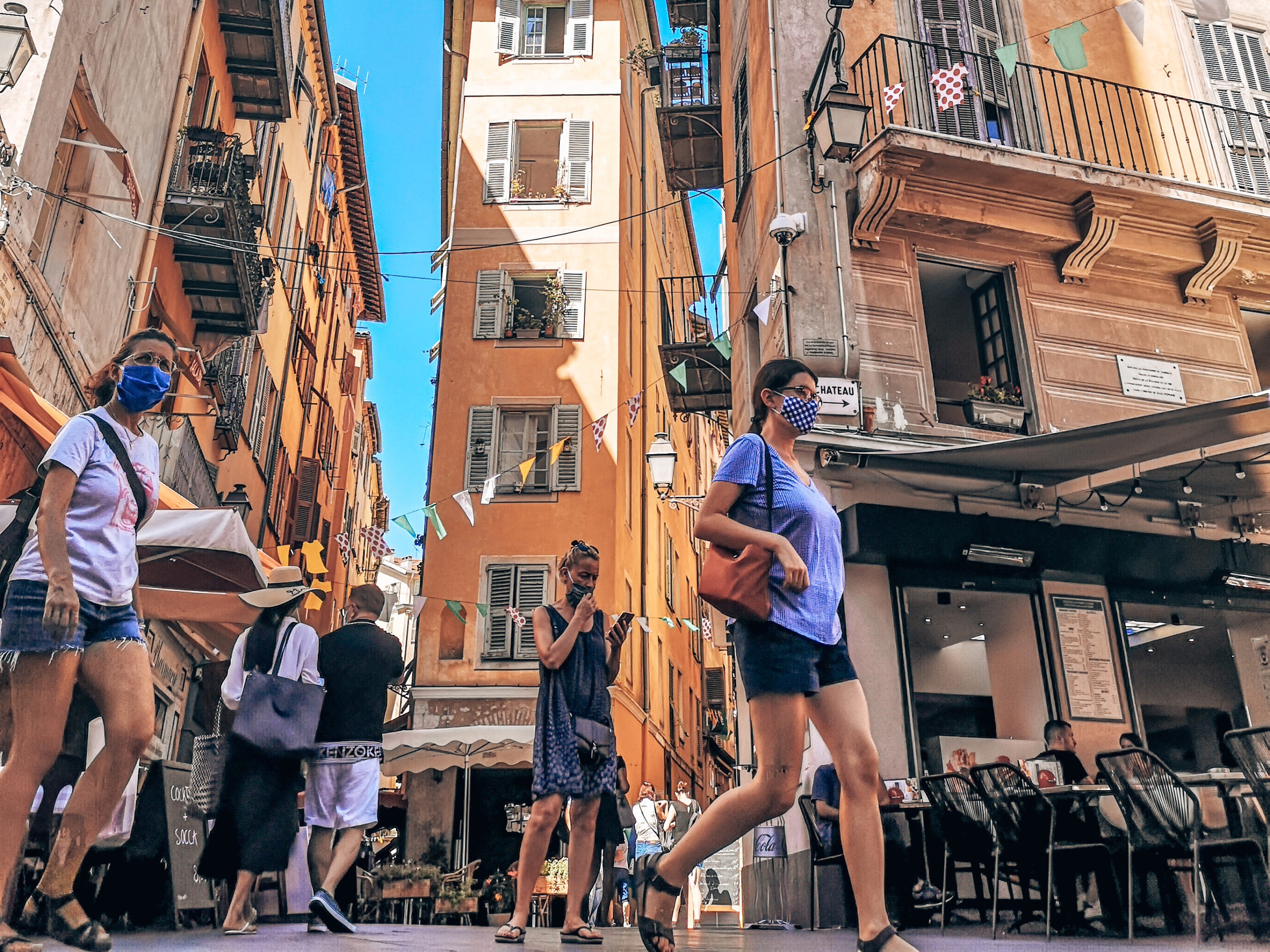 Travel in 2020
So yes, the pandemic has definitely changed travelling but it might not be only in a bad way. Of course a lot of travel companies, hotels etc. fight hard to survive the crisis but on the other hand people travel more sustainable now.